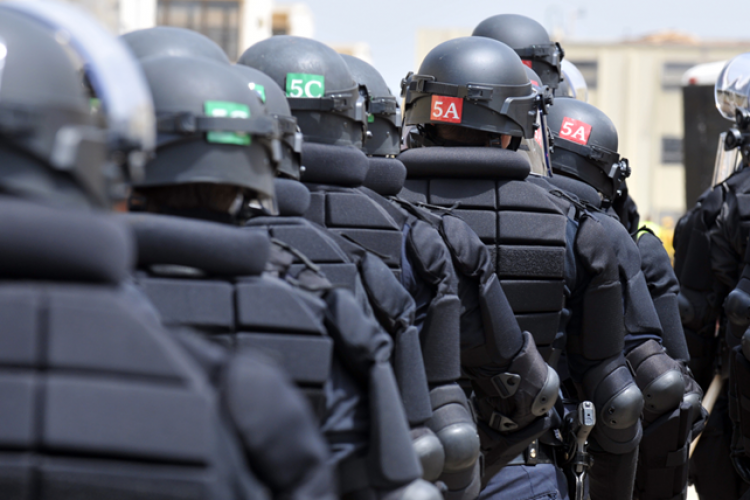 Self-Reinforced Polymers (SRPs)
Self-reinforced polymers (SRPs) are a particular family of thermoplastic composite materials in which both the reinforcing fibre and the polymer matrix are from the same polymer family (for example, polypropylene-reinforced polypropylene). This results in affordable materials that are extremely impact resistant – an essential property for body armour. SRPs can also be processed rapidly by compression moulding and are easily recycled at end-of-life.
Comfort and Weight Saving
As well as being protective, it is also important that personal protection is as comfortable and unencumbering as possible. The fact that SRPs are lightweight helps in this regard, but with the support of Sheffield Hallam University, unique designs that reduce fatigue through close-to-body fit are also being explored, together with novel articulated mouldings. Solutions for aerospace protection have also been developed.
SRPs for Ballistic Protection
In order to provide protection against a broad range of ballistic threats, Coventive Composites has been investigating how SRPs can be tuned and paired with complementary materials.
Various SRP/ceramic combinations have been found to be particularly effective against high energy localised impacts and have been tested successfully against threats from 9 mm handguns and 7.62 x 51 mm high velocity rounds.
---
Downloads
Download case study (PDF)
---
Capabilities
Fibre Commingling
The blending of two different yarns to produce a single mixed yarn - used for producing hybrid reinforcements for composites such as carbon/glass or carbon/aramid
Microwave Heating
We have developed techniques for rapidly and uniformly heating thermoplastic composite and self-reinforced polymer (SRP) sheet materials using microwaves
Thermoplastic Pultrusion
We have pilot lines for the thermoplastic pultrusion of unidirectional fibre-reinforced tapes and rods, including an optional facility for the chopping thereof
---
Industries
Marine
Fibreglass boat hulls were some of the earliest applications of polymer composites, exploiting the ease with which they can be moulded into one-piece, freeform shapes. Today Coventive is working with builders of much larger ships, exploring how fire-resistant composites can support modular construction techniques for passenger cabins.
Mass Transport
Composites are routinely employed in trains and buses, most notably in train cabs and passenger interiors. As with other transport sectors, the fire requirements of the rail industry are very stringent, particularly for underground trains. This is another sector in which Coventive is working to introduce new lightweight, fire-safe composites.
Sports and Leisure
Sporting goods are all about performance. Materials that can make a piece of equipment lighter, stiffer, stronger, or more impact resistant can often provide a competitive advantage. Coventive has worked across a wide range of such applications including footwear, protective apparel, and sporting equipment.
---
Share this case study
---
Found this article useful? We have a full range of services to help you...
View our full range of services
---