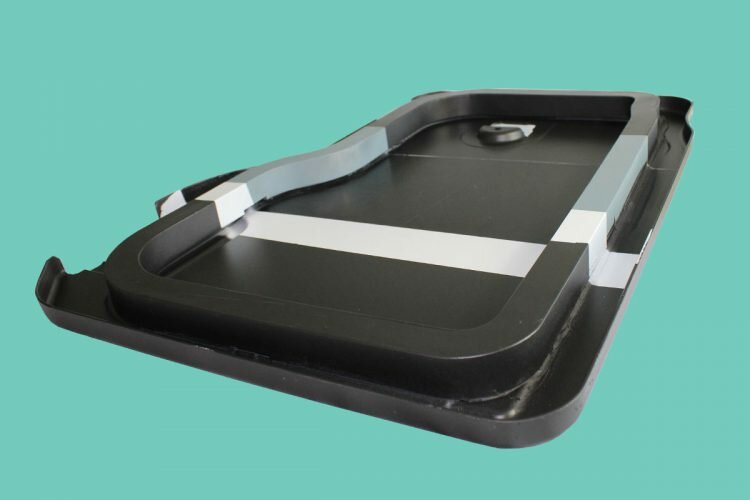 Graphene-Enhanced Composites
Graphene is a carbon nanomaterial that can be added in small quantities to a polymer composite to enhance its properties or even introduce new functionality. Improvements in mechanical performance, thermal conductivity and electrical conductivity have all been observed, allowing the use of composites to be extended into new areas
Automotive Seat Back
This automotive seat back component demonstrates the substitution of a metallic structure with a composite replacement. The graphene enhances the mechanical properties of the glass-epoxy material whilst also engendering sufficient electrical properties to allow the electrostatic deposition of paint.
The Importance of Dispersion
For the property-enhancing benefits of graphene additives to be maximised, it is important to ensure that the particles are well dispersed. Coventive Composites has been focussing on how this can be achieved with resin-impregnated fabric materials ("prepregs"). Prepregs are particularly suited to graphene modification because the flow of resin can be well controlled.
---
Downloads
Download case study (PDF)
---
Capabilities
Our scientists and engineers within our material and process development centres are at your disposal for the development and evaluation of new composite materials
The functional modification of polymers and composites using nano-additives to improve aspects such as conductivity, fire performance and toughness
Development and pilot-scale production of novel preimpregnated ("prepreg") composites via hot-melt processing
---
Industries
Automotive
Whilst composites are used in mainstream automotive applications, they tend to be restricted to low-performance semi-structural parts.  Material costs, cycle times and production volumes generally limit their use for structural components. Coventive is working to develop new materials and processes that overcome these limitations.
---
Share this case study
---
Found this article useful? We have a full range of services to help you...
View our full range of services
---